Dear fellow friends of the ERC,
We want to thank you for all the support you gave us during the Friends of the ERC campaign. Over 24.000 academics from all over the world supported the campaign. This has meant a great deal for the fight to secure a strong and independent ERC.
The European Council and the European Parliament reached an agreement on the multi-annual financial framework (MFF), the EU's long-term budget and a break-down of the Horizon Europe budget, which secured an extra 1 billion EUR to the ERC, landing the total budget for the ERC at 16.1 billion EUR over the next seven years.
The deal could have been better and it landed the ERC about 500 million EUR short of the target set.
But without the support and vigilance of the many friends of bottom-up frontier research, one could say that the deal could have been worse.
So again, thank you for your support – it has made a difference.
We will close the campaign Friends of the ERC and our online accounts.
All the best,
The Friends of the ERC team
University of Bergen
Protect ERC funding in the EU budget
One of the greatest European success stories in the last decade is the European Research Council (ERC). Thanks to its unique formula of independence from political intervention, bold research ideas, bottom-up approach, and a singular focus on excellence,  ERC grants have become one of the most prestigious research grants in the world. We fear a budget cut for research, affecting also the ERC, in the next EU budget.
In an open letter, we called upon the EU Presidents and the Heads of States and Governments in Europe to secure funding for the  European Research Council in the new, long-term EU budget.
Over 24,000 academics from Europe and beyond have supported our petition on www.change.org/FriendsoftheERC to support the letter.
The signatures have been sent to the EU Presidents, to MEPs and to national ministers responsible for research,  and registered as an official petition.
Hundreds of notable supporters representing key stakeholders of European science have supported the petition.
This includes universities, research associations, research institutes, foundations, science academies and many more.
Leading scientists, including Nobel, Kavli and Holberg Prize Laureates, Fields medalists, former and current leaders of ERC have also supported our campaign.
Latest news:
October:          Petition reach 24,000 signatures.
Thursday 24 September 9:45-10:30: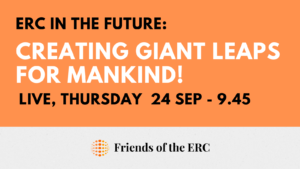 European Research Council of the Future: Creating Giant Leaps for Mankind!
Live session at European Research and Innovation Days. The event will be recorded and published here.

21 September  : Petition reached 23,000 signatures
16 September: Nature's editorial: A pandemic is no time to cut the European Research Council's funding. See all media coverage here
4 September:   Signatures and open letter sent to EU Presidents and EU Member States' Ministers of Research.
3 September:   Press Conference at ESOF 2020.  View a recording here.   Read Nobel Laureate Ben Feringa's speech 'Protect this crown jewel of Europe'
2 September:   Press Release: 16 000 academics call for financially strong and independent ERC  
We  still need to push the frontiers of science– our comment on the latest EU budget proposal