One of the greatest European success stories in the last decade is the European Research Council (ERC). Thanks to its unique formula of independence from political intervention, bold research ideas, bottom-up approach, and a singular focus on excellence,  ERC grants have become one of the most prestigious research grants in the world. We fear a budget cut for research, affecting also the ERC, in the next EU budget.
In an open letter, we call upon the EU Presidents and the Heads of States and Governments in Europe to secure funding for the  European Research Council in the new, long-term EU budget.  Over 23,000 academics from Europe and beyond has supported our petition on www.change.org/FriendsoftheERC to support the letter.

Thursday 24 September 9:45-10:30: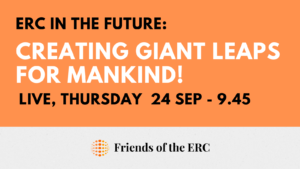 European Research Council of the Future: Creating Giant Leaps for Mankind!
Live session at European Research and Innovation Days. The event will be recorded and published here.

21 September  : Petition reached 23,000 signatures
16 September: Nature's editorial: A pandemic is no time to cut the European Research Council's funding. See all media coverage here
4 September:   Signatures and open letter sent to EU Presidents and EU Member States' Ministers of Research.
3 September:   Press Conference at ESOF 2020.  View a recording here.   Read Nobel Laureate Ben Feringa's speech 'Protect this crown jewel of Europe'
2 September:   Press Release: 16 000 academics call for financially strong and independent ERC  
We  still need to push the frontiers of science– our comment on the latest EU budget proposal